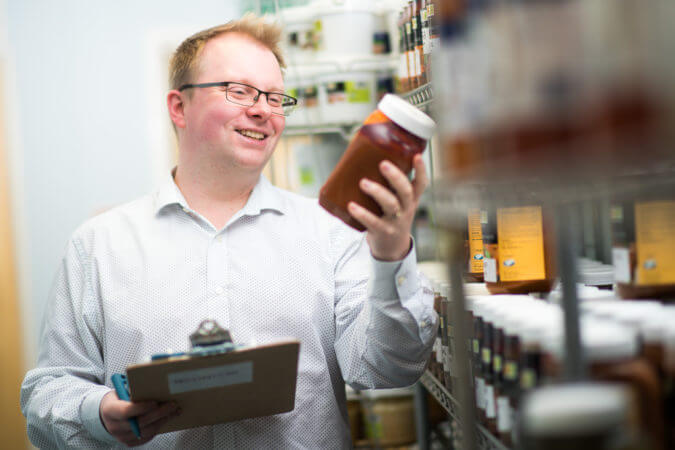 Quattro Foods is not only one of the UK's leading food manufacturers and suppliers, it's also one of the UK's nicest places to work – if we may so ourselves. We pride ourselves on happy people who love what they do. Decades upon decades of research has shown that a contented and fulfilled workforce leads to increased productivity. And so we make it a priority to be a calm and harmonious place to work.
Each month we take a fly-on-the-wall look at our most valued assets – our people. January's carefully selected individual to take centre stage is our much loved Technical Assistant Andrew Taylor.
Take it away, Andrew!
Q. Please can you describe your role at Quattro Foods – your job title and what the role entails.
I am a Technical Assistant, responsible for creating customer specs, calibration and verification of equipment, sampling, audits and projects.
Q. How long have you been working at Quattro Foods?
I started working here in May 2017, so just over a year and a half.
Q. Have you always had an interest in the food industry?
I've been working in the food industry for over 10 years. Initially my basic role as a packing operative was a way to pay the bills, but before long I was learning new skills and I began to see the food industry as a career rather than a job.
Q. What are your favourite aspects of the job?
I love that no two days are alike and there is always something new to learn. The variety makes it interesting – you touch on so many different areas of the business.
Q. What are your least favourite aspects of the job?
I really really hate the smell of garlic puree 😊
Q. Have you noticed any remarkable changes in the industry since you joined the business?
Not really but I'm sure changes have been happening around me.
Q. What do you find most rewarding about your job?
My favourite thing about work is when we have a product launch. It's very satisfying seeing new sauces or soups progress from the development stage to being signed off and eventually reaching stores.
Q. What is it like working with the Quattro Team?
Every member of the team works hard to ensure that we meet customer needs and yet we all remain positive and friendly even when we face pressure, strain or tight deadlines.
Q. In your opinion what four words describe Quattro as a business?
Resourceful, co-operative, reliable, creative.
Q. Do you see any major changes for the food manufacturing industry for the future?
There have been many new pieces of machinery and techniques in the business since I started.
Thank you for your glimpse into life at Quattro Foods Andrew. Watch this space for more in-depth interviews with the people that make Quattro one of the UK's leading food manufacturers.