Quattro's very own MD Sam Brower offers frank insights into her reasons for taking the helm at one of the UK's leading food manufacturers.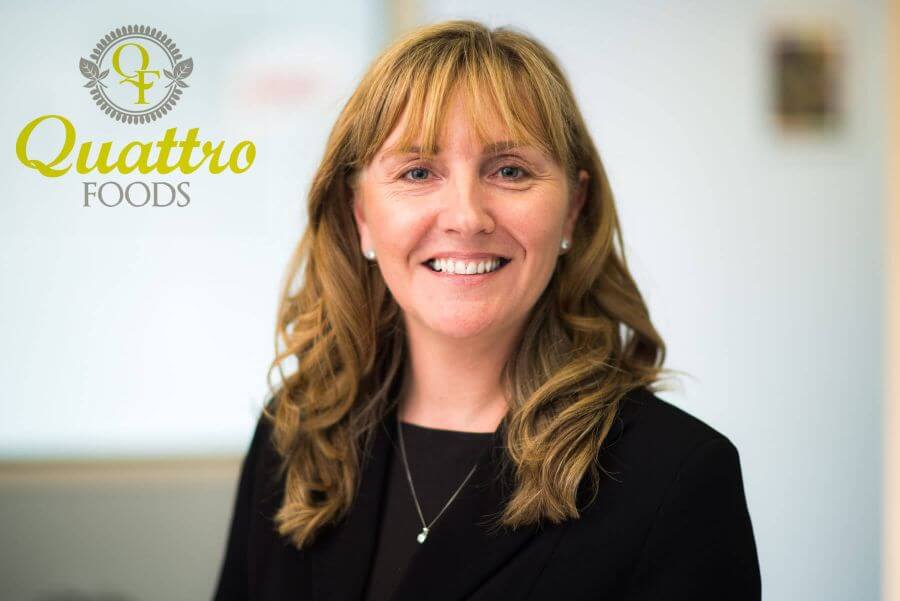 Q. What was your motivation for taking the reins at Quattro?
A. I'd been thinking about owning and running a business for a while, after successfully running other businesses. I also wanted a little more flexibility to spend some time with my children, after moving back to the UK from Italy.
This seemed an ideal opportunity, albeit a tad scary. Keith Fiander, Tony Hancock and I knew the business and felt we understood what was required to take it forward.  With support from Mark Smith on the financial planning (the four of us make up the Quattro!) we decided to give it a go.
Q. Did you have previous experience in the food industry?
A. My more recent skills were in business management, although I had worked in retail operations, which always had food offerings. Tony and Keith had both worked in the food industry for many years.
Q. What challenges did you face when you first took over?
A. It was difficult to get credit as a new business and we had to completely re-think our focus and agree what the business could realistically, profitably deliver. We had to be honest about what we were good at, then take the necessary steps to deliver against that. We knew we were great at developing recipes and manufacturing finished goods to an agreed spec, but we didn't have the resource to create a brand or carry out daily deliveries. For example, getting calls at 2am, when the driver didn't turn up for his shift and having to take the van into London to make deliveries helped us realise what was deliverable; we use hauliers now!
Once we were sure, we decided to focus on bespoke development. There were some tough decisions to make and it certainly wasn't easy, as we had to decline sales opportunities where businesses just wanted sales from stock lines. We were also fortunate to have been introduced to some investors, as the banks weren't lending any money back in 2010, when the country was still deep in recession. After borrowing over half a million with generous repayment terms, we finally felt we could surge forward and invest in factory/production improvements, as well as improve cash flow. Prior to that, there were many times where we had to club together and buy ingredients on our credit cards to see us through and we certainly had a lot of sleepless nights!
Q. What are the most important factors to be considered when setting up a food manufacturing business?
A. Producing food safely is paramount. We're lucky to have a fully qualified technical and operations team, which we've invested in over the years. This was a huge cost at the outset, but crucial to the business. Manufacturing of any goods takes time and investment. Preventative maintenance and continual upgrading of equipment is costly, but absolutely necessary, as is staff training and development. In food manufacturing, maintaining BRCGS certification or equivalent is key to securing sizeable contracts and aids in the development of a quality management system, but it takes time, money and focus.
As a team, we're constantly having to rethink our processes to keep up with changes and make sure we don't get stuck in a rut and let change overtake us. Like all businesses, the food industry moves at a fast pace and it would be easy to get left behind. Couple all of that with the passion, drive, commitment and energy needed and you're on to a good start!
Q. Have changes in food trends impacted the industry since you entered the business?
A. Food trends change all the time and we have to remain aware of what's current and what the next big trend is going to be. It's fun being involved in new flavours and world cuisine and our chefs always rise to the challenge with great enthusiasm. Sometimes, we can't get an approved supplier to supply a specific ingredient, which can be frustrating, but things change all the time and obscure or unusual ingredients are becoming more widely available by the day. More challenging, however, is the continual rising costs of labour, utilities, raw materials and packaging.
These are impacting negatively across the sector and this has been heavily reported in the trade news. End customers have an expectation of menu pricing and know what they're prepared to pay, yet suppliers, food manufacturers and the food service sector are all faced with the same price increases and it's becoming increasingly difficult to continually absorb these costs. Quattro's main focus is on our internal costs and business efficiencies, which helps us maintain our position.
Alongside business efficiency, our fantastic team, our creative flair and our customer service focus are the key to our continued success.